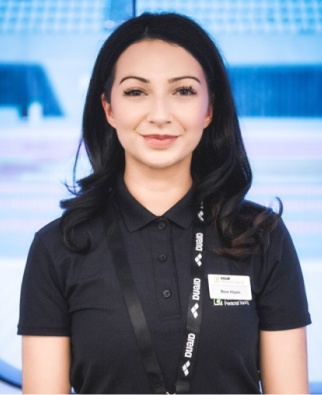 Rose Hayes
London Aquatics Centre
London





About
Qualifications
Specialisms
Location
Reviews
About
Rose Hayes is a qualified Personal Trainer focusing on sustainable fitness & nutrition plans to suit your lifestyle. With a wealth of training experience under her belt, boring non-effective workouts are no more! She is highly motivated to help you achieve your goals and become the best version of yourself!

Rose will guide you through her proven holistic program incorporating achievable exercise routines and targets, combined with 7 day food diary plans, healthy easy to cook meal ideas for the whole family and even life coaching skills to improve your daily habits. Health is the new wealth – Let's work together to create a tailor-made plan - great results guaranteed! Working together, you will never need another Personal Trainer as you'll learn everything you need to know in order to be in control of your health, fitness and confidence!

The only question is...

Are you willing to invest in yourself?

Set up a complimentary consultation with Rose now
Qualifications
Level 3 Diploma in Personal Training & Nutrition
Level 2 Fitness Instructing & Nutrition
Level 2 Massage
Life Coaching Foundation
Level 3 Emergency First Aid at work
Specialisms
12 Week BODY TRANSFORMATIONS
HIIT Training
Fat Loss
Toning
7 Day Food Diary Assessment
Booty Building
Waist Inch Loss
Cardiovascular Health
Arm Definition
21 Reviews
21 out of 21





I've just started PT sessions with Rose, and they are the best decision I have made in a while! My programme is really enjoyable as well as challenging and I learn loads. I really enjoy the sessions and the difference in just a few sessions is amazing. Follow what Rose says and you really do get results. I really look forward to future sessions, they are helping me so much.
Joanna Dorling





Rose is an amazing trainer and I can't recommend her highly enough.

I've been working with Rose for nearly a year and the results have been staggering. Through a mixture of calm encouragement and challenging, high-impact plans, she has taken my fitness forward leaps and bounds. My strength, endurance and physical appearance have all improved beyond recognition and I owe it all to Rose and her responsive, tailored approach.

Rose is genuinely interested in designing a workout that fits the needs of individual clients. Her knowledge is extensive and her professionalism is unimpeachable.

In short - if you want to make real, lasting improvements to your health and fitness - make an appointment with Rose, you won't regret it.
Josh Hadley





Rose is a fantastic personal trainer! Rose can build a great workout suited to you as well as give you advice on nutrition to help you meet your goals. She introduced me to some new exercises to spice up my workout and work on particular parts of my body that I'd identified as my priority areas. Throughout the workout Rose was really chatty and made me feel comfortable and supported.
Hester Gartell





Rose is such a motivational trainer. I was so impressed by the results I achieved with her after I had my second son.

I came away from each session not just feeling great but truly motivated and uplifted for the week ahead. Rose has a way of making you feel really good about yourself as well as getting you in great shape! Can't recommend her enough!
5 stars ⭐️
Annie Tidyman





Rose is highly trained and educated in fitness. She has a vibrant and positive personality that make sessions fun. My fiancé and I both train with her and we have extremely different needs. She creates high intensity strength and balance sessions for him and tailors my sessions to be calmer and focus on exercises I can also do on my own. I have some physical needs due to past surgery and she is able to work around all of them, modifying all exercises to be safe and effective for me. Rose crafted tailored warm-up routines for my fiancé and I that burn calories and increases flexibility. I am able to do mine before the session so I get the most out of my time with her. Rose is also very professional and takes her clients and the commitment they are making with their time/money seriously. I have seen many trainers over the years and Rose is by far one of the best, I highly recommend her.
Cass





Rose is an amazing trainer, I'm doing couple training with my boyfriend. I haven't done work out for a long time, but with her it's really good and very fun, because she always keeps the spirit up, always have something nice to say, always compliment us when we did good and always do something that we both enjoy. I'm always looking forward for our weekly session in the park.
Melinda





Had my first session with Rose yesterday and I loved it. She was so informative, knowledgeable and friendly. I felt motivated and energised and I was really pleased that Rose had really paid attention to what I wanted to achieve. Rose was so engaged & encouraging throughout. Really looking forward to the next session.
Elaine Fitzgerald





Rose is just the nuts at what she does! I came to her little under 6 months, after buying my wedding dress two sizes smaller than I was at the time! Roll forward to last week and my wedding dress fits! She is the biggest supporter and pushes you when all you want to do is give up! She's been life changing for me and I'll be still booking sessions even after my wedding, which was never the plan!
Michaela Borland





Had a great time working with Rose, especially revamping my nutrition. I took a three month programme and at the end there was a big difference in terms of my fitness and muscle tone. I have abs!
Melissa butcher





I had an introductory session with Rose this month and it was so motivating. She listened to my fitness goals and crafted a unique plan to suit my body type and fitness levels. The session was fantastic and she spurred me on every step of the way, even encouraging me to reach some above average scores on the fitness tests! Rose is very knowledgeable about fitness and nutrition and a real pleasure to work with. I can't recommend her enough. Thank you Rose!
Helen Anderson





Rose has been a fantastic personal trainer and I would definitely recommend her to anyone wanting to fulfil their fitness goals! I feel fitter, stronger and confident in my own body.

Training with Rose has made me want to definitely continue my fitness journey with her, as I just cannot imagine putting my trust into another personal trainer!

Rose tailored all my workouts around my needs and goals that I wanted to achieve! We trained indoors and outdoors depending on how I felt! Rose's outdoor workouts are great by the way :) Rose made sure that all the workouts were fun, different and challenging! Rose was also always there to offer me guidance and support outside of training with her too!

On the other hand, Rose has a beautiful soul and her presence is so calming where she just makes you feel at ease when training with her! Rose is a great listener too, where you can have a laugh and joke with her, but at the same time she will motivate you to do more and push you to the limit where you think you are dying lol and cannot physically do anymore. However in the end you feel so proud of yourself and you really do look forward to your next session together!

Rose has trained me physically but also mentally too. I cannot thank her enough of how much she has helped me to believe that I CAN achieve my fitness goals but also that I can achieve ANYTHING in life!

I have now accommodated my fitness goals around my busy lifestyle of which I thought was not possible around my hectic schedule that I have but Rose made it possible :) Rose has been more than just a personal trainer to me.. She is AN AMAZING INSPIRATION & SO MUCH MORE!!! Xxx
Hayley ching Allan





I had a great experience with Rose as my PT. I was completely new to the gym and Rose was able to guide me and give me the confidence to use the gym independently. Each session Rose looked at how I had progressed and was able to show me the next steps. As a result I was able to reach my goals and sustain the routines I had built up over the course of our sessions. Thank you Rose x
Caroline Burges





When I decided to sign up with PT sessions with Rose I was going through a fase I was feeling down, overwhelmed and not motivated at all. Since day 1 Rose was always very empathetic, she understood what I wanted and where I was at, she pushed me to do more. Exercise is like therapy to me and the more I accomplished the more my old self was returning. Rose sessions became, not only great PT sessions, but also like catching up with a friend. She's very professional and knowledgeable, but it's her human and empathetic side that makes her one of a kind! Can't recommend more. 😊
Daniela Silva





Rose is super lovely and creative. I've been training with her for half a year. She designed efficient programs that were tailored to my goals and direct me with great precision during our sessions. I really like the results!
H Low





Rose is an amazing trainer! She helped me break through a progress plateau by correcting my technique, teaching me how to breathe and showing me a variety of fun, challenging and effective new moves. Rose is really easy to talk to, really understanding and really flexible in her approach, tailoring the number and frequency of sessions to exactly what I needed. I am so excited to keep working with her!
Jess p





Rose is an amazing PT, very professional but still warm and she knows her stuff. Staying consistent with Rose, you will see amazing results in your body but also how you feel too. The exercises she takes you through are very adaptable to your level and you walk away from the session thinking 'that wasn't so bad' but you do feel it in days to come. SUCH a great workout! I would recommend Rose to anyone who is looking to get back into exercise without the pressure to do cardio as it's just movement! Very worthwhile.
Saudat Adi





Rose is an incredible trainer, she listened from day one and created a plan that worked for me (never used a gym before) and what I wanted to achieve. She has progressed me to a level of fitness that I wasn't even aware I could reach. Her approach to fitness and well-being has had such a positive effect on my physical and mental health! Rose has been great at adapting routines to fit round work/travel. She is very open and easy to talk too, but will use firm encouragement when she knows you can push through and achieve your goals! Rose is an integral part of my fitness routine because of her knowledge and skill.
Josie Hailey





Rose has helped me achieve my goals of an hour glass figure. By tailoring my workouts and giving me lifestyle tips, my body has transformed in the last 6months. Every session I have been pushed and motivated to keep my focus on my goals. Even when having a bad day, Rose has been attentive and spurred me on to not lose focus. Thoroughly recommend Rose Hayes coaching service.
Cheryl Sime





I started PT with Rose after moving to the area. Being almost 34 and never having set foot in a gym before going alone was scary to me!
Rose made me feel at ease and never pushed me to far out my comfort zone, asking my areas of concern what I felt comfortable doing and this was a great start.
The first month was focusing on my breathing and growing small strength … now 3 months down the line I can leg press 140kg and hip thrust 110kg!!!

Rose has been amazing, she is now a great friend but most importantly incredible at her job!

Thank you for giving me my confidence back.
Claire Jones





Rose is such wonderful trainer, with her encouragement and support through each sessions and I'm thankful to have met you and helping me through this process of getting healthy. Coming to your sessions has been amazing for both my mental and physical. Thank you so much for everything and can't wait to see you soon. Whoops whoops 😁 …
Faduma Ali





Wow thank you Rose, after 3 weeks back I'm at the top of my game! You're a life saver! Muscle memory and having accountability make all the difference, especially with your encouragement. You're the best! Thank you!
Jamies
Submit review