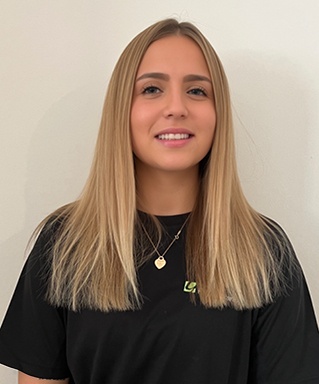 Abbie Stevens
Waterlooville Leisure Centre
Waterlooville





About
Qualifications
Specialisms
Location
Reviews
About
During my school and teen years, exercise was actually something I actively avoided. I was always that child trying to get out of PE one way or another. It wasn't until a friend took me along to a gym session that passion for exercise and fitness transpired.

When my fitness journey started, I had very little knowledge. I was over exercising, eating too little and created some unhealthy habits. It was only when I started to learn more that I realised my fitness habits were hindering me and I knew I needed to change. I hired my own personal trainer, gained more knowledge and my self-esteem and confidence grew rapidly, which was something I had always struggled with.

As my confidence grew, I started to challenge myself further and further. I even set myself a goal and completed a fitness photoshoot which was something if someone would have told me I'd have been doing 4 years ago, I would have laughed at them.

This confidence and love for bettering myself lead me to wanting to train as a Personal Trainer. I was working as a Primary School Teacher at the time but wasn't fulfilled. I loved the teaching side, however wanted to do it with more focus on my passion for fitness.

My aim for my clients is to create healthy habits within them that are sustainable and also enjoyable. I love to see people grow in confidence and accomplish things they never thought they could. I have experienced being over-weight and underweight and have now found a happy medium. This enables me to be able to emphasise with my clients and be able to understand all the struggles people may face.
Qualifications
Level 2 Gym Instructor
Level 3 Personal Trainer
Specialisms
An understanding in eating disorders
How exercise can positively impact mental health
Developing muscle
Fat loss in a healthy way
Strength and conditioning
3 Reviews
3 out of 3





I have been training with Abbie for almost a month now and from the start she has been amazing. She is great in supporting me through this experience of being a 'newbie' in the gym, and has always been able to answer any questions with so much knowledge.

With not having much experience in the gym before, she has built my confidence up, steering me way from only sticking to cardio, and pushing me to the weights section. I feel so much stronger already and I can't wait to continue with my fitness journey.

I have found that since starting with Abbie, I find that I actually look forward to my workouts, she always ensures that my technique is correct to avoid injuries. Abbie is extremely reliable and before starting with Abbie, we went through what exercises I like or dislike and I feel like this has also impacted on my growing love for the gym!

Abbie is great at motivating me and the weekly check- in's is just 1 great example of how Abbie makes you feel important and helps staying on- top of your goals.

I can't wait to continue on this journey with her!
Poppy





Enquired with Abbie after having a long time out due to injury. After discussing my goals and likes/dislikes when it comes to exercises, Abbie came up with a plan, and we went through this to check it's things I like/ can do! I've been following my plan for nearly 4 weeks now and am already seeing so much progress no only physically but also mentally! So excited to see this continue!!
Amy





Easiest review I've ever written. Working with Abbie as my personal trainer has been an incredible experience that has transformed my fitness journey in ways I never thought possible.

From the moment I started training with Abbie, it was evident that her expertise and passion for fitness were unparalleled. She took time to understand my goals, limitations, and preferences, creating a personalised training programme that perfectly suited my needs. Abbie's ability to tailor sessions to my specific requirements ensure that every session was challenging yet enjoyable.

What sets Abbie apart is her exceptional knowledge and ability to educate. She not only guided me through each session but also explained the science behind it, helping me understand the benefits and proper form. This not only improved my technique but also empowers me to make informed decisions about my fitness routine outside our sessions.

I cannot recommend Abbie enough, her expertise, passion and dedication makes her an exceptional personal trainer.

Thank you Abbie for being an incredible mentor and helping me become the best version of myself.
Heather
Submit review