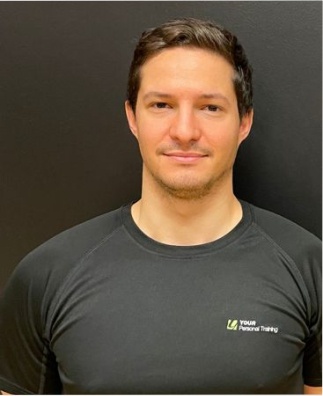 Felix Paz
York Sport Village
York





About
Qualifications
Specialisms
Location
Reviews
About
I have been in the fitness environment since I was little as my whole family play sports and take part in physical activities. My father took me to a gym for the first time when I was a teenager and since that time I decided to become a Personal Trainer.

I have been helping people to reach their goals since I was seventeen.
Qualifications
Spanish qualifications:
TAFAD Senior Technician in Animation of Physical and Sports Activities
Personal Trainer Advanced
High Intensity
TRX Specialist certificates (2010-2014)


UK qualifications:
Level 2 Gym Instruction,
Level 3 Personal Training
OPT Optimum Performance Training certifications by NASM Premier Global (2020-2021)
Specialisms
High Intensity Training -High intensity is a lot more diverse than most people imagine and it can be adapted SAFELY for any individual or group of population depending on different factors. I like to study my clients to find the training that better suits them based on personality, goals and physical characteristics making them feel comfortable while ENJOYING every session.
Wellness and Health Optimum Condition Specialist

Coaching people to build a positive, healthy and strong mind-set toward life through the development of physical skills such as Strength (including hypertrophy) flexibility, balance and coordination
Experienced in training vulnerable people such, disabled people (blind people, people with prosthetics and people in a wheelchair) pregnant ladies and older people (over 87 years old)
Tailored rehabilitation programs and guidance for any type of injury
29 Reviews
29 out of 29





I have started training with Felix for a month and a half now and I can notice the difference already. Felix is a super engaging trainer, the sessions are designed specifically towards my goals. Felix explains the process in detail and prioritizes safety over anything. I would recommend his sessions to anyone.
Xuwei





I had seen Felix working with his clients in gym and really liked how passionate he was about his job. In the past, I had really bad experience with personal trainers and I was a bit hesitant but seeing him working out with his clients made me reconsider and give it a try again. I initially booked 4 sessions with him. I absolutely enjoyed working out with him and I gained back my confidence to work out in gym with equipments on my own. He tailors exercises according to your body and abilities and gradually increases intensity as you go along in a safe and effective manner. You never get bore with him. because there is always a new thing to do in gym when you are with him. He gave me really informative nutritional advice as well. I started to see changes in me very quickly and I was so happy with his training that I booked another 6 sessions with him which is ending soon now and I plan to continue having him as my personal trainer twice a week from now on. He as a person is very caring and kind and we have lots of laugh and fun when working together which makes our training even more enjoyable. He is the best personal trainer that I have worked with and I absolutely 100% recommend him.
Fazeh





I found personal training sessions well thought out, and everything was explained really well.
I was slightly concerned about whether 2 hours plus would be too long, but it worked well, and I felt like I had a good workout—not too hard to make it not enjoyable. I felt happy and energised after training. Strength training helps a lot with mood and wellbeing.
Corina





'Struggled all my life with low weight/body size due to various medical conditions and what were for a long time undiagnosed food intolerances. I booked four sessions with Felix at York Sports Village as a means of helping a beginner out in the gym. Through Felix's expertise, encouragement and advice I have achieved more than I could have ever hope to in a very short amount of time. Felix spends time to taylor-make your exercise and diet plan to meet your individual needs. My dietary intolerances and medical conditions mean Felix had to be constantly tweaking my plan, which he was more than happy to do. As a result, I have managed to increase my body weight by over 10% in just a few short months. I can't recommend Felix highly enough, the impact he has had on my life is immeasurable. Dedicated, knowledgable, caring and an all round nice guy. Muchas gracias!'
Simon





I am enormously grateful to Felix for all his help improving my fitness and flexibility.
I am in my 70s with a pacemaker and Felix´s knowledge and skill has really improved my time in the gym. We also have a lot of laughs.
Clive





Felix is an exceptional personal trainer. He is very knowledgeable and made sure you are safe when doing all the different exercises. I loved every sessions with Felix because you can just tell that he is very passionate about his role as a trainer. I would higher recommend Felix to everyone who is looking for a trainer!
Boonpeng Waengkaew





I decided to start work with Felix following the success he achieved with my 17-year-old son. I am a regular attender of gym classes but as a more mature woman felt very self-conscious using the gym. When I sat down with Felix to discuss my goals I explained that they were two-fold: I wanted to improve my upper body strength and I wanted to develop the self-confidence to be able to use the gym independently.

Felix takes a holistic approach, discussing personal goals, health issues, nutrition and lifestyle in order to reach a full appraisal of your needs and develop a suitable training programme. Felix strikes the balance between sharing his own knowledge and skills and listening to you. I found the training challenging but extremely rewarding. Felix pushed me to my limits but always expressed a confidence in me that I could achieve and meet his expectations.

Felix plans each session meticulously, with a proper warm up and stretch to finish. He records progress and emails thorough training programmes and nutritional advice. Felix is calm and reflective, will discuss anything that you feel unsure about explains the purpose and benefits of each exercise. He has really effective interpersonal skills.

The results I have achieved have exceeded my expectations. Although I expected to improve my strength and stamina, I didn't expect such change to my body shape, in particular much better definition in my upper arms and obliques. In addition, the skin on my upper arms is more taut.

I have been attending the gym independently since my sessions with Felix ended. I can't say I truly enjoy it and much prefer the experience of classes with a group. I do, however, feel confident enough to use the gym, feel the benefit of the sessions and am motivated by the results. With the help of Felix I have achieved and exceeded my expectations. No doubt I will return to him for follow up sessions in the future!!
Liz Foley





It has been only few months since I started training with you and finally, after many years, I feel confident again with my body. I was never expecting to see results in such a short period of time. You told me that I could do it when I did not think I could. Your words of encouragement gave me the strength and motivation I needed to take action and make the change.

Thank you for being patient and supportive. You have taken me to the next level! I am thrilled with the varied routines you developed for me. You keep me interested and motivated, and I love the improvement in my body. You taught me to be patient and consistent, and the work will pay off.

I wish I would have found you sooner!!

Thank you for taking me on this journey.
Sotirios





Can't recommend Felix Paz enough. The difference in having a PT is massive. Even if you think you know what you need to do, the power of accountability is huge. Felix is super supportive, very knowledgeable, and quick to respond to any questions throughout the week. The feedback videos / messages never fail to inspire, and one months in I'm seeing great progress in terms of weight loss, strength and muscle gain, and general fitness and well being. Highly recommended. If you've been thinking about getting a PT, don't hesitate any longer. You'll get results. Drop Felix a message It'll be the best decision you've made.
Mel Aktas





'Felix is knowledgeable, adaptable and personable. It has been a while since I worked with a Personal Trainer, and I have been very pleased with the experience and with my progress.
Felix listens and responds to me as an individual , and I feel this is a real strength . I enjoy working with him.'
Gillian





I love my training routine, as it has adapted perfectly to me.
I was starting my training and required a special one due to some health issues.
All the exercises had an explanation and pictures to clarify the safe way to perform them.
It was very helpful.
No doubt I´ll keep training and improving, as I´m very pleased with it.
Cris





Felix has been a great coach, helping me go through my rehabilitation. I broke both my wrists when playing football and had several surgeries in the following months.
Felix designed a training programme perfectly adapted to me (it also helped with my neck stiffness) for strengthening my forearms to support my wrist.
I feel stronger and way more flexible than before.
I definitely recommend him to everyone! Thank you Felix!
Jose Pedrera





Felix is a great professional. He not only centers on keeping the body healthy but also helps keep the mind healthy and at ease. He gives a very personalized service. He's a really easy person to talk to and it makes the sessions easier and more entertaining. He deals with the different kinds of problems you may have and works around them to make you feel safe and to still get your desired results.
Paula





Working with Felix has been fantastic! He is very passionate and knowledgeable.
I started training with Felix a few months ago. Before I started training I was nervous about a lot exercises having suffered an ankle injury. Felix has been great at taking this into account and also gave me some specific exercises and stretches to help with my ankle. These have helped immensely and I am now so much stronger and fitter than I have been in years.
I would highly recommend training with Felix! I'm amazed how much stronger I am and I am really grateful I started the training.
Thank you Felix.
Cathie





My son started working with Felix when he first joined the gym as an enthusiastic 16-year-old, keen to start lifting heavy weights and develop his muscles. He has ASD and can be quite set in his ways. I was concerned about potential damage and was keen he was guided in using the correct techniques and to develop a training programme suitable for his age and development.
Felix reassured him that they would achieve the desired results together. They have had several blocks of sessions over a 12-month period and the results have been incredible. Not only has there been a physical transformation but my son has developed in self-confidence, motivation and knowledge. He is really pleased with the results, particularly when this is recognised by family and friends.
Felix designs a programme based on the individual and incorporates nutritional advice. He has emailed training programmes so that they can be followed independently. The sessions last over two hours with a proper warm up and warm down session at beginning and end.
Felix is encouraging and strikes a good balance between pushing a person to their limits alongside flexible adjustments at times when this is necessary. Felix is kind and respectful with excellent communication skills. I would highly recommend him as a personal fitness instructor and an all -round lovely human being!!

A proud parent
Liz Foley





I started training with Felix 3 years ago and since then my strenght and flexibility have improve to a completely different level
He is also tailoring my training while I´m pregnant and feel great while doing it and after(over all with my appetite and sickness)
Lovely guy nice to talk to, always check how I feel before and after every session
I highly recomend him!
Noemi Perez





Has helped me with restoring my strength and with my disabilities. Very nice young man who has monitored my progress and who recognises when I have been extremely tired and unable to achieve my normal results.

I also like his sense of humour and how he makes sure you are all right and stops when any pain. Also brings equipment down for me which would cause me pain to reach . He always enquires as to my welfare since last training session and if had any stiffness or pain also does really good stretch cool down after having finished on equipment. Really enjoy my sessions and look forward to seeing him every week.
Marie





I really look forward to my training sessions with Felix. The benefits for my health and well-being have been immense and have transferred to many other aspects of my life. The training programme is bespoke and personalised. Felix keeps careful records of progress and development and these inform his planning of the activities we work on each week. He is thoughtful, easy to talk to, patient, encouraging and extremely knowledgable and skilled as a professional trainer. Working with Felix is fantastic and I do recommend him. The benefits I have felt have been such a bonus.
Margaret





Felix Paz is an excellent personal trainer. He combines an extensive and detailed knowledge of anatomy and exercise regimes with a warm, friendly and empathetic approach to his customers. I have found his personal approach with me very beneficial. He takes time and uses his considerable professional expertise to understand my needs in relation to muscle strength and flexibility, and devises exercises and programmes that meet those needs.



The title 'personal trainer' is very apt because Felix epitomises the personal approach and his programme of exercises, advice and recommendations is providing me with real benefit. His attention to detail of his customers' needs and circumstances is outstanding.



It is a pleasure to work with Felix, knowing I am in safe, capable and caring hands.
Andrew





Felix Paz personal trainer
I have been training with Felix for 4 months and on my journey I have lost 4 stone in weight benefitted from the physical training with also a reduction in high blood pressure.
It wasn't easy for me at nearly 60 to adapt to the training.
Felix gave me confidence also determination towards my goal.
He has excellent communication skills.
He explains and gives good instruction to what he wants you to do at the beginning and end of each session. He also keeps good records of your training and encourages the impact and benefits in your approach and completion of your work out.
Felix is an excellent trainer who keeps you motivated and I have no problem in giving recommendation to anyone who needs a professional trainer.
Susan Mclaren





As a older overweight woman I was very nervous about going into a gym environment, but Felix put at ease straight away. He tailored my exercises to my needs and I am starting to see and feel the results already. I would highly recommend Felix.
Paula





I just finished a block of six weekly sessions with Felix. Before my first session I hadn't trained properly in years and was really out of shape.
I was surprised at how quickly I started to see progress and it's made me realise that I want to go back to the gym and keep on top of my fitness.
The sessions weren't easy and he pushed me hard but that's what I wanted. He's able to adapt the session as you go if you're struggling but he's also able to push you when you're having a good day to reach that next level.
The fact that I enjoyed the sessions while working so hard speaks volumes to how good a personal trainer Felix is. He gets results and it's never boring.
Tom Creasey





Felix is a fantastic trainer who is dedicated to creating personalised and ejoyable training programmes.
I have trained with Felix since November and already I can see improvements in my strength and fitness. He keeps me motivated and I thoroughly enjoy working with him; I have booked my third block of sessions to continue my fitness journey
Jess Marshall





Felix is very knowledgeable, friendly and clearly just loves what he does. The training programme is tailor-made and I enjoy that the sessions are consistently challenging and varied - I've noticed huge improvements in my strength and agility which is a great motivator. The two hour sessions also mean that I always leave feeling exhausted but refreshed. Thoroughly recommended!
Ben





I have trained with Felix for around 3 months now, and I am really enjoying the sessions. Felix takes care to explain everything properly, and he is knowledgeable and friendly. He makes you feel at ease and keeps you motivated. I enjoy that the training programme is tailor-made to myself, and that Felix has been able to adapt exercises when I have had knee pain. The training itself is varied and interesting, and with two hour sessions it is very good value for money too. I noticed improvements in strength and in how my body looks fairly quickly, which is a good motivator. I have had a couple of PTs in the past, and Felix is definitely the best I have seen.
Eirill





I've been training with Felix now for around 4 weeks and absolutely love our sessions. When I first went in we spoke about any issues I had and told him I had a winging scapular on my right side. This has now dramatically improved from what it was like before going to the sessions and Felix has tailored everything around what I want to achieve and more. He is a very friendly and professional person. I would recommend him to anybody and I look forward to future sessions.
Kyle





I have been training with Felix for a few months now and have been amazed by the results! Not only physically but also mentally and my outlook on exercise has changed significantly thanks to Felix and the confidence it has given me is great! I have been able to learn a more thorough understanding of exercise and how the body works through Felix's teaching and the difference it has made is remarkable. Learning the importance of improving strength and flexibility to better everyday life has been another great benefit physically! Felix is also such a personable and uplifting person and has given me the motivation needed to achieve the goals I wanted, he also goes above and beyond in helping me achieve my goals and any questions I have he is always happy and willing to help and explain!
Eve





I started training with Felix 2 months ago and I have already seen noticeable improvements in my ability to perform tasks outside of the gym. I am a 27 year old nurse and have found that since training with Felix, I don't get as tired being on my feet all day, I have more strength and much more control of my strength and I find myself more energised than ever.


Felix has been pivotal in getting me back into exercise, with his extensive knowledge of physical fitness, including a wide variety of exercises that target every muscle imaginable and a thorough understanding of the anatomical proccesses involved. He has also gets to know you on a personal level so he can adapt the training regime to suit both your lifestyle and goals. He has introduced me to a few new exercises as well as gotten me into boxing which I have found incredibly enjoyable and beneficial. Felix is also very patient and understanding, though he does know when I need a bit of a push to break through any fitness barriers!


Felix's passion for fitness and for helping his clients is truly top notch and I would recommend him to anyone who wants to look into personal training, be it just to get used to the gym casually or to train long term to meet specific fitness or health goals. He has been incredibly kind and encouraging every step of my fitness journey so far, and I am honestly so grateful to him. I wish I could give him 6 stars!
Matthew





Felix Paz worked with me for a total of four sessions after an initial planning meeting. At this session goals were identified, I talked about any physical limitations, and Felix explained the nature of the sessions. I found Felix to be very personable and easy to work with. He has a good sense of humour, and was friendly to talk to. The sessions were very enjoyable despite being hard work and quite intense. Time was given for a thorough stretching at the beginning of each session, and also at the end. Directions were always clear, and when appropriate Felix demonstrated what he wanted me to do. Encouragement and feedback was given throughout the sessions including progress: how the current session compared to previous ones. Felix was at all times very professional, displayed a deep grasp of physical training principles, and communicated not only what to do but how and why as equally important. I benefited greatly from the sessions and have no doubt that my work with Felix will impact how I approach my workouts and also how I use a variety of machines.
Peter Monether
Submit review