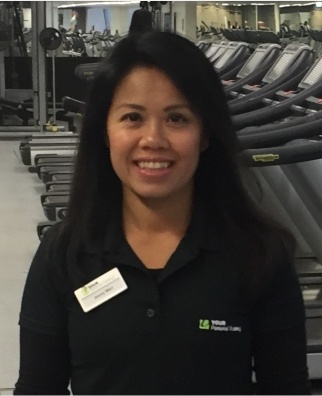 Jenny Man
London Aquatics Centre
London





About
Qualifications
Specialisms
Location
Reviews
About
I'm an experienced personal trainer, since 2006. My main passion is to help empower people to unleash their potential, become the best versions of themselves, by achieving above and beyond their fitness goals. I specialise in pre and postnatal training as well as functional training, strength, kettlebells and HIIT for sports, fat loss and muscle building. I adopt a holistic approach, with a 7 day nutrition analysis and results driven training, that is sustainable with little disruption to your lifestyle.

I've competed in a cross fit style weightlifting competition with a twist. The twist being judged on aesthetics along with performance. In training I challenged my body with strength and powerlifting techniques and tweaked my diet for both performance and aesthetic goals. This enabled me to experience not only the physical but also the psychological challenges when competing.

I will help you psychologically, physically and nutritionally to give you a well rounded plan for success!
Qualifications
Premier level 3 personal training
Premier level 3 Nutrition
Premier level 2 Gym Instructing
Premier level 3 sports massage therapy
Premier Award in designing pre and post natal exercise programmes
GGS certified pre and post natal coach
Certified Olympic weightlifting instructor
Certified Extreme Kettlebell instructor
International qualification in Body Pump
International qualification in body balance
Qualified Boxercise instructor
First Aid at work
Specialisms
Pre and Post natal coaching
Weight loss/Fat loss
Functional Strength training for sports or everyday living (including rehab and posture correction)
Nutrition
Muscle building and Definition (Body composition)
7 Reviews
7 out of 7





I have been with Jenny for 4-5months on and off.
I chose to work with Jenny as she specialises in postnatal. I have now 3 children and needed to not only loose weight but to build strength with my cor and pelvic floor. I was a complete beginner when it came to lifting weights - especially in the gym, but now I'm feeling so confident.
Jenny has been very supportive and patient, especially because making time with a baby has been challenging. I'm going to continue working with Jenny as I'm very happy with my progress so far!
Alice





I have been working with Jenny for 5 months, and I have seen significant improvements in my health. Apart from losing weight, I feel stronger and healthier. I have also managed to bring down my blood pressure, which is now with in normal range. Jenny has a holistic approach to personal training, she tailor makes excersice programme to suit my abilities and keeps me motivated. She also provides nutritional advice and support. Jenny has been great in supporting me in my health journey and achieving my goals - thanks, Jenny 😊
Syeda





I've been training with Jenny for almost 5 months and in that time I've seen improvement in my strength, stamina and confidence in the gym. Jenny is very knowledgeable and motivating, and she always ensures there's variety in my programme, which makes for very enjoyable sessions!
Rhian





I trained with Jenny for a few months and have learned so much about what to do and how to do it right. I really enjoyed my training sessions with Jenny and felt so much stronger, fitter and confident in my workouts. Jenny gives really helpful and constructive feedback in a way that is encouraging and motivational. To anyone considering working with Jenny I would say go for it, you will learn a lot with a supportive, knowledgeable and motivational trainer!
Gemma





Having been training with Jenny for almost a year now, I can sure say that Jenny is an excellent PT. We managed to make a workout plan despite my busy work schedule and I started to see results in my posture, stamina and strength after just a few months which made me very motivated and very keen to stick to training. Training sessions with Jenny is dynamic, diverse, progressively challenging and yet enjoyable. Just be aware, she won't stop chasing you to eat a healthy diet till you give up and start cooking healthy meals yourself!
A. Mustafa





It was a pleasure to have jenny as a personal trainer. She made me do some exercices which has improved my resistance quite fast. She did an analysis of my healh weaknesses and advices on how to achieve what I wanted according to my initial strengh as I was diabetic and weak on my legs because of neuropathy. She is very kind and patient naturally as a trainer.
Thierry Boucaud





I really enjoyed having Jenny as my PT. We got on really well and her workouts were amazing. She really took the time to switch up the workouts (like boxing - btw she's very good at boxing). I was always encouraged to work to a high limit so we can utilise the time we had, but she made sure I was also safe and well rested when needed.
I always felt at ease around her and I have learnt a lot with the few sessions I have had with her.

Thank you for being a great PT Jenny! :)
Phi B
Submit review