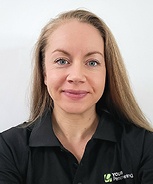 Petra Bodecs
Horizon Guildford
Guildford





About
Qualifications
Specialisms
Location
Reviews
About
I fell in love with the gym 10+ years ago and became a fitness professional in 2017. For me, training is beyond the aesthetics, it's about feeling mentally and physically strong, confident and able to progress not only on the gym floor but in everyday life.

I tailor my sessions to the person's needs and abilities as everyone is different. My main focus is core strength, stability and laying down a solid foundation to prevent injuries further down in the client's fitness journey.

I'm also passionate about boxing, so if you'd like to learn new skills or just let some steam out, I'm happy to teach you.
Qualifications
Level 2 – Fitness Instructor
Level 3 – Personal Trainer
NASM – Stretching and Flexibility Coach
CPDs:
Boxing and Pad work
Strength and Conditioning
Circuits and Bootcamp
Menopause Movement
Specialisms
Muscle Building
Weight Management
Functional Training
Strength and Conditioning
Mobility and Stretching
Boxing and Pad work
Peri and Post-Menopausal Women
4 Reviews
4 out of 4





I am a woman in my 50's who has been attending personal training with Petra for about 6 months and the results have been life changing. Petra makes the sessions varied and challenging but always fun! She is friendly and personable but focused on creating a positive training experience. I feel so much stronger and fitter both physically and mentally! Highly recommended!
Susie Palmer





I have used Petra for over 5 years, including working online throughout the pandemic, and would not use anyone else. She makes keeping fit achievable for me as a 50 something, building me a tailored programme, with no two days the same. I look forward to our twice weekly sessions and would highly recommend Petra to anyone looking for a PT, not matter what your current level of fitness.
Mark M





I look forward to my sessions with Petra as they are never dull or boring. She is able to push me more and more as I need it and also apply the breaks to ensure optimum performance. Petra is someone who listens well to my feedback and takes corrective actions accordingly to ensure you are able to optimise your ability, on a ongoing basis. Her knowledge is wider then just fitness, and advises on diet and more to deal with those aches and pains. A really good PT .
JeromeM





Petra has been my personal trainer for the last two years. I always look forward to our sessions, she is knowledgeable, encouraging and brings variety to my work outs, which I love. My strength has vastly improved and she has even introduced a plan for what I can do from home too. Petra is a brilliant PT, with a huge passion for her work and friendly manner. Highly recommended!
Rosie
Submit review