PT Story
Celebrating Jon Radnidge: YOUR Personal Training's PT of the Month for JULY
"There's no other job like it, I hated the mundane 9-5 job, being a personal trainer allows me to be my own boss, create a fantastic lifestyle for me and my family as well as changing peoples lives for the better".
Jon Radnidge
Personal Trainer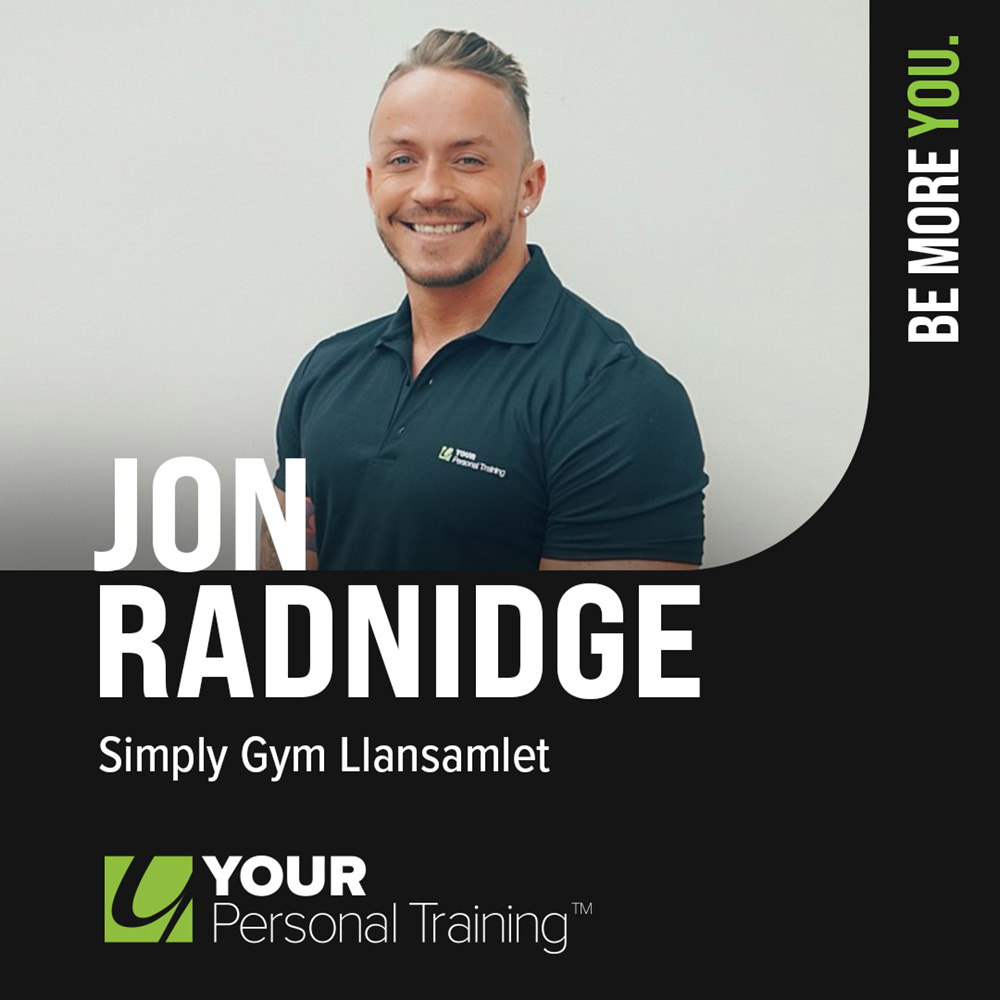 Introduction:
At YOUR Personal Training, we take great pride in recognising exceptional individuals who have made a significant impact in the health and fitness industry. This July, we are delighted to shine the spotlight on Jon Radnidge, a truly inspiring Personal Trainer based at Simply Gym, Llansamlet in Swansea. With an impressive career since joining YOUR PT in 2018, Jon's journey from South Africa to the UK and his dedication to helping clients achieve their fitness goals make him a worthy PT of the Month.

A Passionate Fitness Enthusiast:
From a young age, Jon was deeply involved in fitness and exercise during his school days. After moving to the UK with his wife Lee-Ann, he decided to leave behind the mundane 9-5 office job and pursue his true passion for health and fitness. The transition into a brand new industry brought its challenges, but Jon acknowledges the unwavering support he received from YOUR PT, which played a pivotal role in setting him on the path to success.

Foundations of Success:
Jon firmly believes that having a well-thought-out plan and adhering to it is crucial for new Personal Trainers. For him, the key to a thriving business lies in providing exceptional customer service. By going above and beyond for his clients, Jon ensures that they not only achieve their fitness goals but also feel inspired to become the best versions of themselves.

Words of Wisdom:
Drawing from his own experiences, Jon offers invaluable advice to aspiring Personal Trainers:
Lead by Example: Practicing what you preach is fundamental. As a Personal Trainer, you must embody the healthy lifestyle you promote to your clients. Consistency and dedication are the cornerstones of building trust and credibility.
Stay Knowledgeable: In the rapidly evolving fitness industry, staying up-to-date with the latest trends, techniques, and research is crucial. Being well-informed empowers you to deliver the most effective and innovative training methods to your clients.
The All-In Attitude: Success rarely comes without sacrifice. Encourage your clients to push their limits by doing the same yourself. Demonstrating determination and commitment will inspire them to give their best and achieve outstanding results.
A Fulfilling Career Choice:
Jon's enthusiasm for his profession is infectious. When asked why others should consider a career as a Personal Trainer, he highlights the uniqueness of the job, enabling him to be his own boss and create a fantastic lifestyle for himself and his family. Moreover, the opportunity to positively impact people's lives and facilitate transformative changes is something Jon cherishes deeply.

Family and Legacy:
Beyond his career accomplishments, Jon is a devoted father to two boys, and his commitment to fitness has already influenced his eldest son, Easton, who is actively participating in various sports, including boxing. This legacy of fitness enthusiasts promises a healthier and fitter future generation.

As we honour Jon as the PT of the Month, we celebrate his achievements and recognise him as an inspiration for aspiring Personal Trainers everywhere. Congratulations, Jon!