PT Story
Celebrating September's Personal Trainer of the Month - Tina Holland (Mountbatten Centre)
The support from YOUR Personal Training and my centre has been phenomenal and I couldn't be happier...I am living my dream!
Tina Holland
Personal Trainer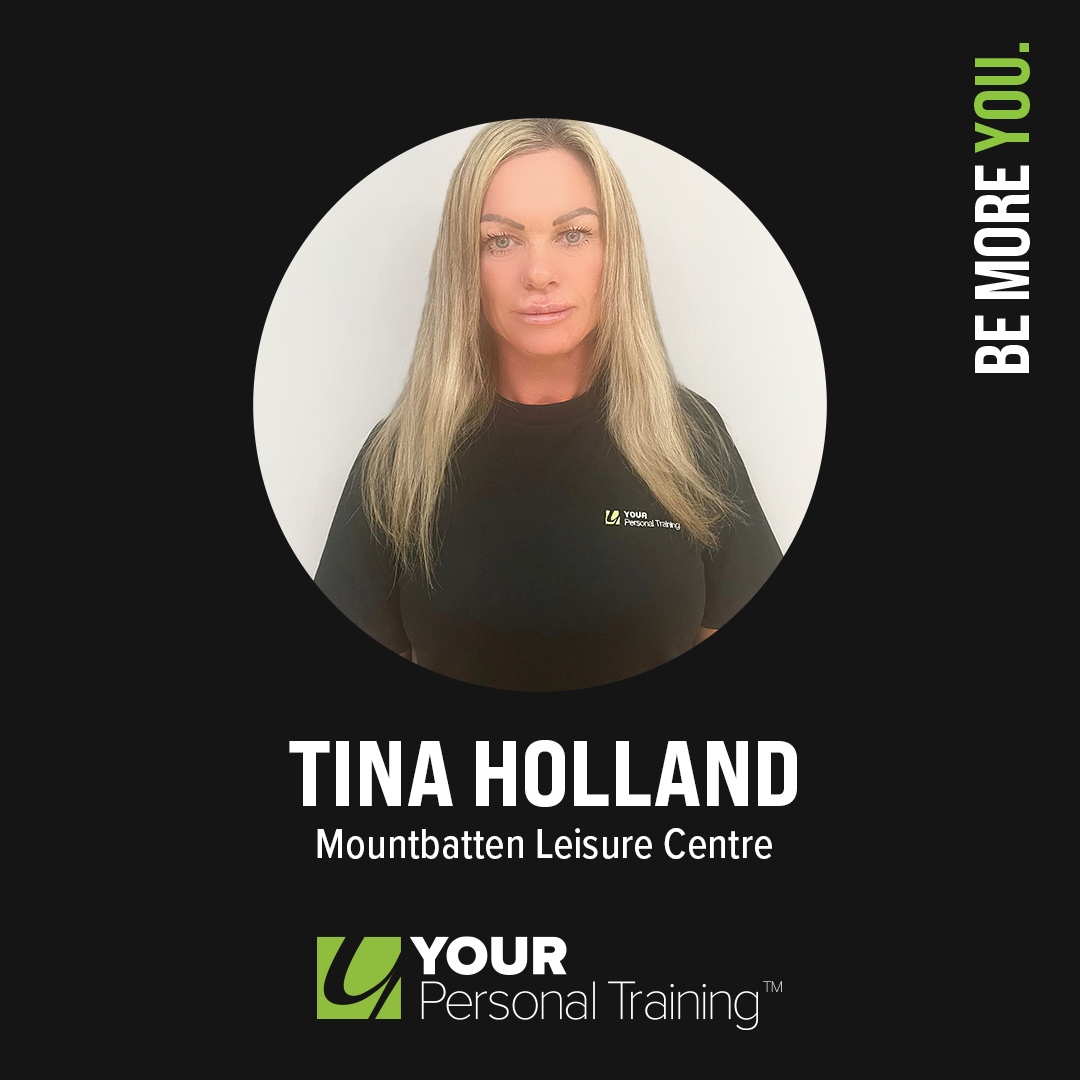 Introduction:
In the world of fitness and personal training, dedication, passion, and a genuine desire to help others transform their lives are qualities that set exceptional trainers apart. This month, we're thrilled to shine a spotlight on Tina Holland, our Personal Trainer of the Month for September. Tina's remarkable journey from competitive bodybuilder to inspirational personal trainer is a testament to her unwavering determination and her ability to motivate and uplift her clients. Let's dive into Tina's inspiring story and find out what makes her the standout trainer of the month.

From Bodybuilder to Personal Trainer:
Before embarking on her personal training career, Tina Holland was a devoted mother of two and an accomplished competitive bodybuilder. She had conquered the world of bodybuilding, even securing victory in the prestigious PCA trained figure competition. Tina's journey wasn't limited to the gym; she also showcased her endurance by competing in marathons, with a remarkable best time of 3 hours and 24 minutes. Her dedication to maintaining competition-standard fitness was unwavering, and she was contemplating competing in the Masters division in the near future.

However, Tina's life took a sudden turn when she was diagnosed with a hole in her spine in 2015. Remarkably, just days after surgery, she was back at the gym. It was during this time that she caught the eye of Kelly-Ann James, who encouraged her to pursue a career in personal training. Tina's journey in the fitness industry hasn't always been easy, but her tenacity and passion have carried her through.

In December of the previous year, Tina relocated to Portsmouth from Warrington, facing the challenge of building her network from scratch. Fortunately, she secured a job at the Mountbatten Centre in February with YOUR Personal Training and received unparalleled support from her mentor and YOUR PT infrastructure. Today, Tina is thriving as a personal trainer, and couldn't be happier!

Building a Thriving Client Base:
Since starting her journey in February, Tina has successfully built a client base of approximately 40 individuals, ranging in age and fitness levels. Her clients span from the young adults to 79 years young. Tina's certification as a menopause coach has been instrumental in establishing deep connections with many of her female clients.

Tina's Path to Success:
Tina's path to success wasn't paved overnight. She relied on her exceptional interpersonal skills, approaching people everywhere – in the gym, at the cafe, and even in the changing rooms. Her commitment to being available at all hours and her dedication to the gym, including taking on shifts and teaching classes, have been essential in attracting clients. Tina's continuous pursuit of knowledge, including attending Les Mills courses and studying to become a certified nutrition coach, further demonstrates her commitment to her clients' well-being.

Overcoming Obstacles:
Tina's biggest obstacle was undoubtedly moving to a new town and a new job at the Mountbatten Centre, with no existing connections to rely on. However, her discipline and determination, honed through years of bodybuilding, enabled her to build her own thriving personal training business from the ground up.

Celebrating Client Success:
One of Tina's proudest achievements as a personal trainer has been working with Karen, who lost over a stone in just six weeks under her guidance. Tina has fostered a special bond with all her clients, witnessing remarkable transformations in their lives. Many have regained their independence and taken control of their health and well-being through her guidance.

Aspirations for the Future:
Looking ahead, Tina's primary goal for the next 12 months is to continue expanding her business while pursuing certification as a Certified Nutrition Coach. Her dedication to her clients' success knows no bounds, and she is committed to helping them achieve their goals.

The Privilege of Transforming Lives:
When asked about the number one reason someone should join the health and fitness industry as a personal trainer, Tina's response is resounding: "Lifting weights and training hard changes people's lives!" Tina sees her role as a privilege and takes immense pride in being part of her clients' transformations. For her, it's the best feeling in the world to witness her clients grow, regain their independence, and improve their quality of life.
In celebrating Tina Holland as our Personal Trainer of the Month for September, we honour her dedication, her passion for fitness, and her unwavering commitment to her clients. Her story serves as an inspiration to all of us, reminding us that with determination and a heart full of passion, we can achieve anything we set our minds to.

Congratulations, Tina, on this well-deserved recognition!